Kalpana Chawla Planetarium(Kurukshetra)
Kalpana Chawla Memorial Planetarium has been setup at Kurukshetra-Pehowa road (near Jyotisar Tirth) by Haryana State Council for Science & Technology, Govt. of Haryana in joint collaboration with National Council for Science Museums, Ministry of Culture, Govt. of India in memory of India's first woman Astronaut Dr. Kalpana Chawla. The planetarium built at a cost of 6.50 crores covers an area of 5 acres of land. Surrounded by sprawling green fields and lush Astro-park the planetarium is ideal for those who seek to escape from the din and dust, hustle and bustle of big cities. The planetarium offers a blend of peaceful surroundings and astronomy shows run using latest technology equipments. In a very short span of time the planetarium has emerged as one of unique and most favorite tourist spot of the city.
The excellent programmes and supporting exhibits placed inside and in the Astro-park help the students in particular and people at large in learning this frontier area of science and satisfy their curiosities with a whole range of information about the Space. The astronomy shows are usually run in Hindi language and special shows both in Hindi and English languages are also conducted on demand for groups.
The planetarium was dedicated to the nation by the Hon'ble Chief Minister of Haryana on 24.07.2007.
Contact Details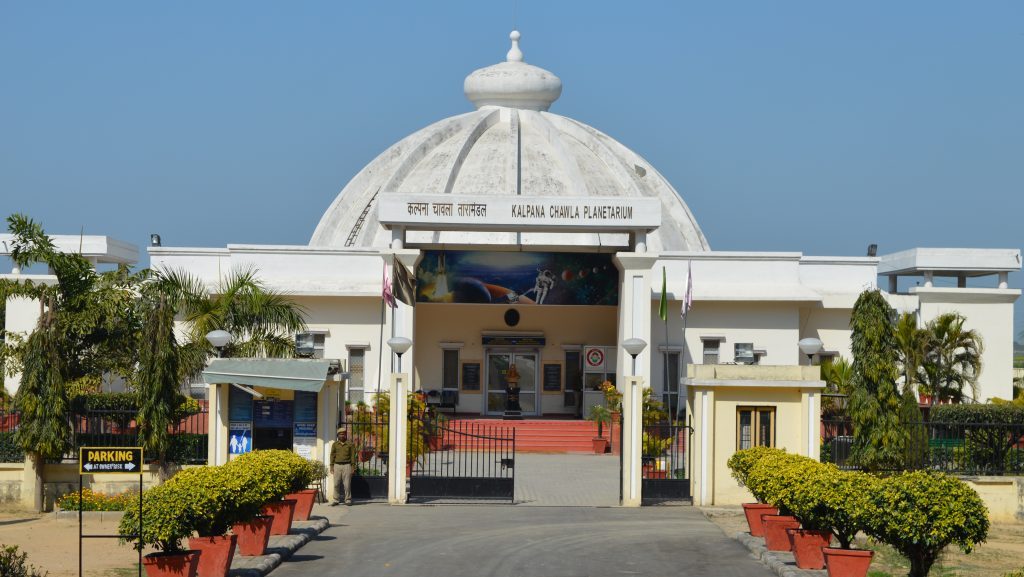 How to Reach
By Air
The nearest Airports are at Delhi and Chandigarh, which are connected to Kurukshetra by road and rail. Taxi services are also available from the airports. Delhi is at a distance of 160 km from Kurukshetra.
By Train
Kurukshetra Railway Station, also called the Kurukshetra Junction is located on main Delhi-Ambala Railway line. Kurukshetra is well connected with all important towns and cities of the country. The Shatabadi Express halts here
By Road
Haryana Roadways Buses and other neighboring State Corporation buses connect Kurukshetra to other cities like Delhi, Chandigarh and other important places. Buses connecting to Delhi (160 Km), Ambala (40 Km) and Karnal (39 Km) are frequently available.Kurukshetra is at distance of about 6 Km from Pipli, an important road junction on the National Highway No.1 popularly called the Grand Trunk Road